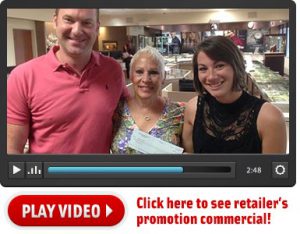 Mars, Penn. – For most couples, rainy weather on your wedding day isn't usually a cause for celebration, but that wasn't the case for newlyweds and conditional rebate winner Nicholas and Courtney Calderone. That's because the Calderone's recently received a check for $10,000, courtesy of Casa D'Oro Jewelers, and paid for by Odds On Promotions, after it rained 1.09″ on their big day.
To increase visibility and drive engagement ring sales, Reza Liaghat, owner of Casa D'Oro Jewelers runs a very popular "Pray for Rain" promotion where he gives "unlucky" couples a refund of up to $10,000 if it rains 1 inch or more on their wedding day.
According to Odds On's Damien Anderson, who worked with Liaghat on the promotion, "Weather promotions are a very effective tool for helping retailers stand out from their competitors during the holiday season. Another client, The Diamond Vault, runs a Snow Day Giveaway where anyone that makes a purchase between November 25th and December 24th gets a 100% rebate if it snows 6″ or more on New Year's Day."
Along with promotions tied to foul weather, Anderson notes that Odds On also runs promotions based on the weather being unseasonably warm, "If you buy an all-wheel-drive vehicle, snow blower, or a snowmobile, you want to be able to use it. Having a 'Warm Weather Guarantee' can be an effective tool for closing big ticket sales."
Want to learn more about using weather (or sports) to drive increased traffic and close more sales? Looking for a chance to have a possible conditional rebate winner of your own? Email or give Odds On Promotions a call today at 888-827-2249.