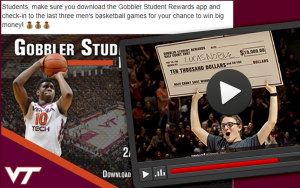 Blacksburg, Va.. – Imagine winning $10,000 just because you downloaded an app. That's exactly what happened to Virginia Tech Freshman Lucas Noble this past basketball season after he downloaded a student rewards app, and was randomly selected to participate in a half-court basketball contest. The goal of the promotion was to encourage adoption of and engagement with the Gobbler Student Rewards app, as well as entertain fans.
With that in mind, the Virginia Tech Marketing and Promotions team crafted a season long half-court shot promotion featuring the chance to win $10,000 at half-time during selected basketball games. On February 21, during a game against Clemson, Noble was the first of several randomly selected students to show up at the promotions booth, earning him the chance to shoot for dough.
According to the Assistance Director of Marketing and Fan Experience, "We ran the half-court show promotion during all of our ACC games. He was joking around about making the shot, then he went out and made the basket. It was pretty incredible. He was so excited after the shot, he was already talking about what he was going to do with the money."
"Working with Linda has been awesome. She's super responsive. When we called her the next day after the game, she walked us through everything. Odds On has been great to work with," continued the A.D.
Are you looking to engage a crowd? Odds On offers a variety of text to win, online and skills contests to increase engagement in any setting. To learn more visit our website at www.OddsOnPromotions.com or give us a call at 888-827-2249.