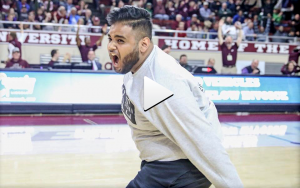 Madison County, Ky. – Talk about kicking off the basketball season with a bang. Congratulations go out to half-court basketball shot winner Sameel Patel of London, who won a brand-new Ford EcoSport, valued at $21,000, courtesy of Madison County Ford, and paid for by Odds On Promotions.
Patel, a criminal justice major, won the vehicle during a first half time-out, not only winning the brand new ride, but scoring #8 on ESPN SportsCenter's Top 10.
In addition to the successful half-court shot contest, EKU also gave selected students a chance to make a three-quarter shot for $40,000, a full-court putt for $5,000, as well as a brand new TV for making a three-pointer as part of their opening night festivities.
Want to put your product at center court this season? Give Odds On Promotions a call today at 888-827-2249 to learn more about basketball contest sponsorships or how to have a half-court basketball shot winner of your own.