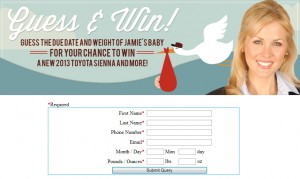 One of the best parts about working at Odds On Promotions is seeing how creative our customers can get when it comes to promotions!
Check out how this car dealership in the South created an online promotion around their spokeswoman's pregnancy.
Yes, you read that right. The dealership built a fantastic guess and win promotion built around their spokeperson's baby's birthday.
In a bid to generate donations for a local charity while creating a buzz, a Toyota dealership is giving locals the opportunity to win a 2013 Toyota Sienna, paid for by Odd On, based on the baby's due date and weight!
Participants can submit entries via an online Facebook contest, or at the dealership's website.  The individuals who came the closest – or gets an exact match –  will then get the chance to participate in a Pick 'Til You Win Lucky Envelopes promotion, which will take place at the dealership.
In a Pick 'Til You Win Lucky Envelopes contest, contestants select envelopes, and open them one at a time revealing one of 3 different prize symbols. When they get 5 matching inserts, they win the indicated prize.
In this contest, if the five grand prize winning inserts are collected first, the lucky finalist will instantly win a brand new 2013 Toyota Sienna, valued at $30,000… and paid for by Odds On Promotions!
We'll have to wait a few months to see if there's a winner, but we think this one is a winner for charity and the dealership right now!
Need an attention-grabbing online promotion of your own?  Whether it's for a charity or your in need of an online promotion for an autodealer,  give us a call at 888-827-2249 or email us for a free, no-obligation quote!