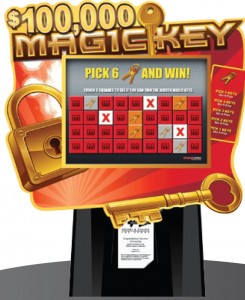 Looking for a "magical" trade show promotion to insure at your next big event?  Damien Anderson, Internet Business Development Manager, is here to share a great contest with you, which comes from a food distributer in the Northeastern U.S.
I was contacted by a food distributor looking for ideas on how to increase traffic to their trade show booth.  I suggested running one of Odds On's Countertop Kiosk promotions, utilizing our "Magic Key" Video Scratch and Win contest!
Here's how the trade show promotion worked: Attendees who stopped by their trade show booth were given a chance to select 6 spots on the kiosk game's touchscreen.  If all 6 revealed winning 'key' symbols, they would have won the 'keys' to a $40,000 vehicle… paid for by Odds On Promotions!
When insuring one of Odds On's Video Scratch and Win kiosk games, I always recommend that you hand out smaller, sponsor-insured auxiliary prizes for those participants who manage to unveil fewer winning symbols. After all, everyone loves free swag — and let's face it, no one likes to walk away empty-handed!  Two for one coupons or discounts on purchases can be a great solution if you are on a budget.
More Trade Show Promotions…
Need more trade show promotion ideas for your upcoming show or other big event? Visit our website! We have a unique promotion for any/every type of business!
Interested in insuring a Video Scratch and Win promotion of your own? Check out the stock games we have to offer, or give us a call at 888-827-2249 to find out more about how we can custom design a game specifically for your business/organization!  We strongly encourage everyone to also email us with any questions you might have!

Check out a demo of our Magic Key VSW game: