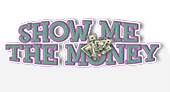 Chris Gardiner, Northeast & Midwest Business Development Manager, is here to tell you how you can increase attendance to remotes, specifically trade show events, with a media promotion from Odds On Promotions!
Big Money Media Promotion –  for Pennies per Play
In celebration of this trade show's 50th Anniversary event, one of my radio group decided to give one lucky attendee a chance at winning — you guessed it — $50K.  The client selected Odds On's Video Scratch and Win promotion, "Show Me the Money!"
Attendees who showed up at the radio station's booth had the opportunity to select 6 spots on the Video Scratch and Win game's touchscreen.  If the six spots they selected each revealed a stack of bills, they would have been an instant $50,000 winner… and Odds On would have proudly written a check for the prize amount!  While unfortunately, there was no grand prize winner, the radio station and trade show both ended up handing out some fabulous auxiliary prizes to those who managed to reveal a lesser number of winning symbols, to ensure that no one left empty-handed that day!
Interested In Insuring a Media Promotion?
Check out the media contests and promotions we have to offer, then give us a call at 888-827-2249 for a free, no-obligation quote!  You'll definitely also want to check out the other Video Scratch and Win games we have available, as well as watch the live demo of Show Me the Money below.  You can also email us at any time if you have questions!