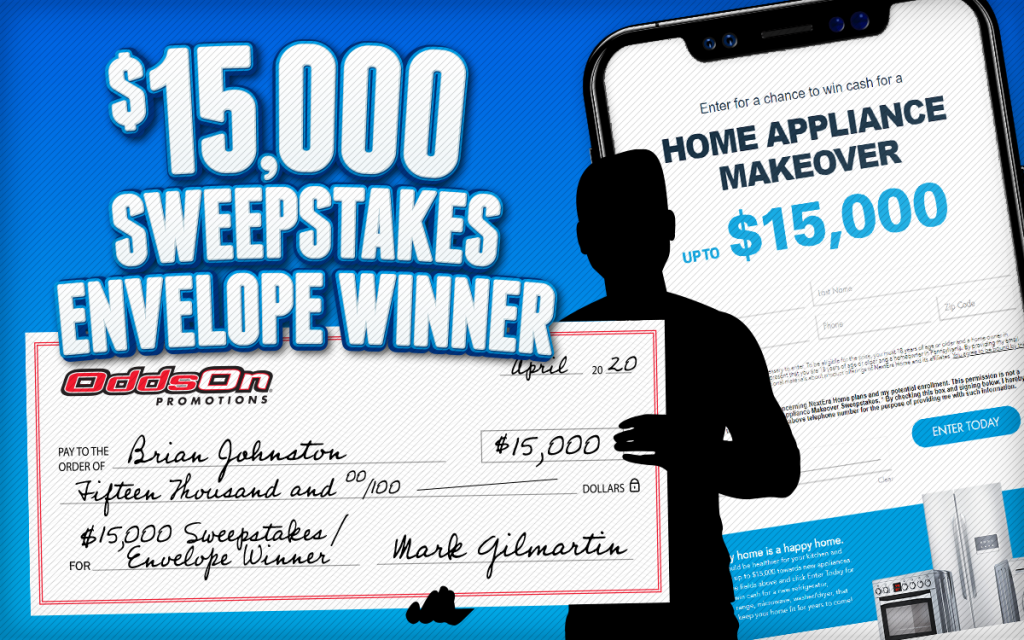 Denver, PA – Think that because there is a pandemic, you need to slow down your marketing efforts? Think again! This April, prize insurance winner Brian Johnston of Denver won $15,000 courtesy of NextEra Home and paid for by Odds On Promotions, in a Home Appliance Makeover sweepstakes promotion administered by Cohen-Friedburg Associates, Inc (CFA).
The Sweepstakes was promoted via social media, and designed to bring attention to NextEra Home's appliance and home warranty programs. After registering and completing a brief survey, contestants were entered for a chance to be the one lucky finalist who would select one envelope out of 100 Lucky Envelopes in order to win the $15,000 grand prize, insured by Odds On, or a $1,000 consolation prize courtesy of NextEra Home.
On April 18th, Johnston was randomly selected, and due to the constraints of Covid-19, instead of getting to choose a Lucky Envelope at a central location, CFA got creative, sending the envelopes to the contestant's home. While a CFA Representative watched via live feed on their cell phone, Johnston selected and opened envelope #33 (in honor of basketball great Larry Bird) winning the $15,000 grand prize.
Are you ready to get back to business? Want to have a possible prize insurance winner of your own? Let Odds On help you re-engage your audience and re-capture revenue with online instant win contests as well other promotions designed to help you drive sales. For more information give us a call today at 888-827-2249 or visit our website at www.OddsOnPromotions.com.