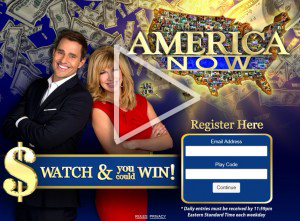 Looking to engage more viewers during Spring Sweeps? A watch and win promotion is surefire way to get viewers tuning in …
Raycom Media recently gave viewers across the country the chance to win up to $1,000,000, paid for by Odds On Promotions, for tuning daily to watch America Now.
In order to get their chance to win the big bucks, viewers need to watch the show in order to find out the "Play Code of the Day".
After receiving the daily code, viewers headed over to  the website, AmericaNowNews.com, and entered the contest using their email address and the "Play Code", after which they received a confirmation email.
At the conclusion of this multi-day watch & win contest, one lucky contestant was selected from all of the registered contestants, and given the chance to win $1,000,000 playing Odds On's Pick Til' You Win Lucky Envelopes promotion.
Judy Dunn from Huntsville, Alabama, was the lucky finalist selected from over 40,000 registered participants (and one of 425 from Huntsville).  Dunn was then invited to her local station and presented with 40 of Odds On's "Lucky Envelopes", each of which contained one of three prize symbols ($750, $1,000 and $1,000,000).  Judy then selected and opened envelopes until she had five matching symbols, winning the indicated prize of $750.00.
Watch and Win Promotions Made Easy…
While Raycom Media opted to give their finalist the chance to win a $1,000,000 insured prize using an end-of-promotion Lucky Envelopes contest at a local station, a watch and win promotion like this can easily be run entirely online, or it can be structured as a sweepstakes, where tuning in daily gives your audience members the chance to win a daily, weekly or end of promotion guaranteed prize, sponsored by a participating advertiser.
If you'd like to learn more about this promotion, or about running your own online watch to win promotion, email or give me a call today at 888-827-2249.