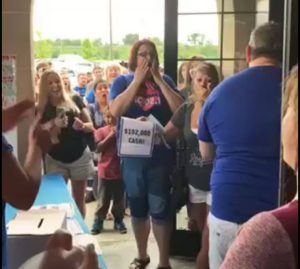 Kansas City, Mo. – Congratulations to on-air promotion winner Jamie Links, of Independence, who recently won $102,000, courtesy of KC 102.1 (KCKC) in Kansas City, and paid for by Odds On Promotions, in the station's  "$102K In May" Lucky Envelopes contest.
To drive tune-in during the month of May, the KC 102.1 on-air talent prompted listeners to call in during 4 selected day parts to qualify for a chance to win $102,000.
At the end of the on-air promotion qualification period, the station threw a grand prize finale event at Los Cabos Mexican Grill, where the station randomly selected one finalist who got to play a Pick 'Til You Win Lucky Envelopes game.
Inside each of 40 Lucky Envelopes, which the station put on display, there was a lucky prize message. While two messages read "$500" and "$1,000" – the station's cash consolation prizes, the third message read "$102,000", which was insured by Odds On.
Links opened one envelope at a time until she collected five matching messages, winning $102K, which was the largest cash prize ever awarded in the history of the market.
According to station's Promotions Director Bryan Truta, "KC 102.1 has a history of 'bigger than life' giveaways but this takes the cake. We are pleased to be giving away the biggest prize in KC history."
For more information on planning your own history-making on-air promotion, email or give Odds On Promotions a call today at 1-888-827-2249.