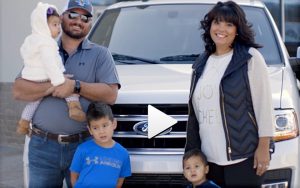 Tulsa, Okla. – Congratulations to football promotion winner Lindsay Tally who won a brand-new Ford last Fall, courtesy of Oklahoma Ford Dealers in partnership with KOKI Fox 23, and paid for by Odds On Promotions.
Tally won her new ride, valued at $45,000, as part of the Oklahoma Ford Kickoff & Win Sweepstakes, a season-long football promotion based around Fox's Saturday night college football "Game of the Week".
To participate, every week viewers visited the station's website contest page and completed a quick registration form. Each week, the station would select one contestant who had the chance to win the brand-new Ford if the Opening kickoff was returned for a touchdown, but would also win a guaranteed prize: a services certificate valued between $150 – $1140 at one of the participating dealerships. In addition to the weekly prizes, everyone who participated also was entered to win a Bonus Prize at the end of the season: a $500 service certificate, a Yeti cooler and two tailgate chairs.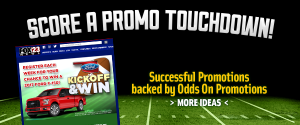 On October 28, Saquon Barkley returned a 97-yard opening kickoff for a touchdown, during the Penn State vs Ohio State football game, winning Tally her brand-new Ford. Watch her pick up the keys to her new ride!
Looking for a football promotion that will help you drive in-store or web traffic from now until Super Sunday? Odds On Promotions can help. To learn more, email or give Odds On Promotions a call today at 1-888-827-2249.