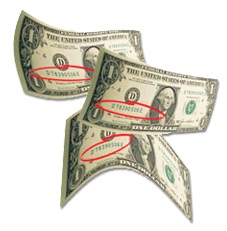 Looking for some fresh new TV promotions?  Need to boost your share?  Then check out this Dollar Bill Game promotion Odds On insured for a television station client based out of Kentucky.
Here's how the promotion worked: Prior to the promotional period, Odds On Promotions placed one-dollar bills into circulation in the TV station's broadcast area.
Then, every weekday during the month-long promotional period, the serial number on one of the dollar bills distributed was announced on the 5:30pm news.  If a viewer happened to have the dollar bill which exactly matched the serial number displayed on the television screen, they had fifteen minutes to call in and claim their prize – $10,000 cash, paid for by Odds On Promotions!  (Watch the video below).
The promotion 'finale' occurred on the last evening of the promotion – this time, the dollar bill's serial number – which was displayed on the television screen –  would be worth $100,000, if a viewer happened to have an exact match!
This promotion offers multiple chances to tune in and win thousands, which is why I'm a big fan of the Dollar Bill Game.  While unfortunately, no one happened to have one of the winning dollar bills, the station drove tune in by giving viewers the chance to win big!
Ready to find out how Odds On's TV promotions can drive results for your station? Have any unique TV promotion idea? Chances are we can help you add a giant insured prize that will attract attention and increase tune in!  Give us a call today at 888-827-2249 for a free, no-obligation quote, or feel free to browse through all of the other TV promotions we have to offer.   You can also email us with any questions.