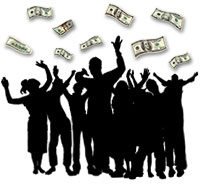 Surely you're familiar with Odds On's TV Lotto promotion… but if not, then here's a great idea for all you TV stations out there looking for television promotion ideas — a "text in to win" contest where viewers tune in at particular dates and times to see if they're a prize insurance winner!
A frequent repeat client who has an airtime trading company based out of the Southwestern U.S. worked with a South Carolina-based television station to insure a contest with  Odds On Promotions — And when it comes to television promotion ideas, this one drives tune-in like you wouldn't believe (which is likely why he keeps coming back to insure more)!
Here's how it works: During a month-long promotional period, the TV station advertised a commercial every day which prompted the viewer to text a specific word to a shortcode.  In return, the viewer received a list of six different TV shows via text message.  The viewer also had the option of logging on to the station's website and entering in their email address and other contact information to obtain the list of six different shows.
Viewers were then prompted to tune in to the 10 o'clock news each evening for a live drawing.  If the names of the six TV shows drawn happened to match all of the shows on the viewer's list, then the viewer would have scored $100,000, paid for by Odds On! Viewers had to obtain a fresh list of shows each day to keep participating during the span of the month-long promotion.
While unfortunately, there wasn't a grand prizeswinner, one randomly selected viewer each week still scored a fabulous auxiliary prizes provided by the TV station — in this case, a $100 gas card!
Awarding promotion contestants with guaranteed client and/or sponsor-insured auxiliary prizes is always a great idea… it keeps folks participating!
Need More Television Promotion Ideas?
Interested in a TV Lotto promotion or need more television promotion ideas?  Visit our website, then give Odds On Promotions a call at 888-827-2249 or email us for a free, no-obligation quote and further information!  And be sure to watch the video reel below for a live demo of how TV Lotto works!