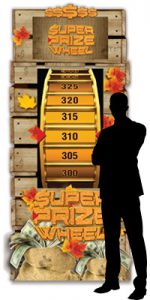 Looking for a winning Thanksgiving casino promotion? Recognize and reward your players with a cornucopia of cash and prizes this November with Odds On's mechanical or 3-D virtual "ThankSpinning" Super Prize Wheel promotion!
Qualify players in any manner you choose (joining your club, winning a hand-paid jackpot, scoring a suited Blackjack with a minimum bet, etc.) and invite them to return for their chance to spin & win up to $100,000—paid for by Odds On.
Whether you opt to have players compete head to head to see who can capture the most cash or you give a single player the chance to win big, Odds On's Super Prize Wheel is a fun way to add excitement to your casino floor.
Looking for another Thanksgiving casino promotion? Contact us today at 888-827-2249 for more ideas, or completely customize one of your own. We'd love to hear about any suggestions or ideas you may have!