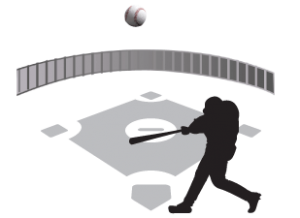 In need of some baseball contest ideas that will increase fan attendance and engagement at your next big game?  If so, then you're going to absolutely love hearing about this baseball promotion we helped a Minor League team in the Northeastern U.S. to insure as part of their  Opening Day
— a Home Run Derby Contest!
Here's how the baseball contest worked … on Opening Day, one lucky fan, chosen via raffle ticket, was selected to take three swings at a baseball off of a hitting tee placed at home plate.  If they successfully "hit one deep" over the six-foot-high fence, they would have been awarded generously – with a brand new truck valued at $30,000, compliments of the sponsor and paid for by Odds On.
While unfortunately, the fan who was selected didn't score the vehicle, they still had an absolute blast — as did all of the other fans!
While winning an insured grand prize is always nice, it's definitely not all that counts. When I think about what qualifies as a "winning promotion", I tend to think about factors such as increased attendance, fan excitement, and interaction… as well as capturing valuable marketing information from your fans!  Speaking of which, be sure to check out our Online Contest Registration.
More Baseball Contest Ideas
Need more baseball contest ideas?  Be sure to visit our website.  You can either fill out an information form via our website or give us a call at 888-827-2249 for a free, no-obligation quote!  You can also email us at any time for more information and baseball contest ideas.  Go ahead and contact us today to get a baseball promotion set up for your next big game(s) — trust me, your fans will thank you!