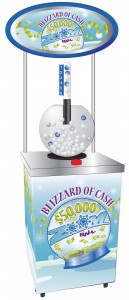 Whether your casino property is looking to attract more players and coin-in during the off-season or a notoriously low-traffic time frame, or if you're just looking for something to generate excitement among your loyal players, Odds On has the perfect casino promotion for you!
This story comes to us from a casino property in the Mid-Atlantic, who used Odds On's Zoom Ball promotion to help keep players on their property longer.
For two months this winter, the casino insured Odds On's winter-themed "Blizzard of Cash" Zoom Ball casino promotion to increase play.   Every Thursday, Friday and Saturday during selected promotional periods, the casino randomly selected players, giving them the chance to participate in the promotion. The promotion official would then activate the ball blower and each player would press the big red button on the machine, sending 6 balls flying into the machine's "Zoom Zone."  If a contestant happened to get 6 blue-colored balls in the "Zone" they would have been an instant $100,000 winner, compliments of Odds On!
Interested in insuring a Zoom Ball promotion of your own?  Take a look at all of the stock Zoom Ball themes we have to offer, then give us a call at 888-827-2249 for a free, no-obligation quote or email us for more information.  Don't see any theme that you like?  No problem — Odds On can customize a specialized Zoom Ball promotion specifically for your property and/or the occasion… just let us know what you have in mind!