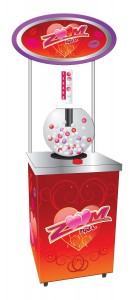 Love is in the air at this Southwest casino property!  That's likely due to the fact that they're giving players the chance to win the big bucks with a casino promotion from Odds On: Valentine's Day Zoom Ball!
Here's how this red hot casino promotion will work: during the month of February, qualifying players will have the opportunity to stop by the Zoom Ball machine and land 6 red balls in the machine's "zoom zone."  If one of them happens to do so, they'll win an instant $1,000,000, paid for by Odds On!  Bonus: Anyone who gets 5 red balls in the zone, will walk away with $10,000, courtesy of Odds On!
Odds On's Zoom Ball promotion comes complete with a customizable backlit sign, stock or customizable 3-sided cabinet wrap, and plugs into any standard outlet!  You can even choose what colored balls you'd like to use, as well as what color you'd like the LED light surrounding the sign to be!
In addition to providing prize coverage  for those who get  5 or 6 colored balls in the Zoom Zone, Odds On can assist with budgeting for smaller self-insured auxiliary prizes for those who get a smaller number of colored balls in the Zoom Zone. After all, no one likes leaving empty-handed … which is why Odds On recommends awarding $x in free play, or merchandise from one of your property's gift shops or restaurants for those who get 2, 3 or 4 colored balls in the Zone.  Not only will your players be greatly appreciative, it will incentivize them to come back for your next big promotion!
Has this casino promotion made you fall in love yet?
Interested in insuring a Zoom Ball promotion of your own?  Contact Odds On Promotions today via email for more information… or give us a call at 888-827-2249 for a free, no-obligation quote!  We're happy to help!