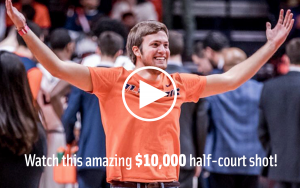 Champaign, Ill. – Talk about Orange Krushing it … Congratulations go out to Austin Triplett who recently won $10,000 thanks to Odds On's half court shot insurance, after he nailed a half-court basketball shot.
A former high school basketball player who was known for his half-court prowess during that time, Triplett nailed the prize-winning shot in front of 14,000 fans during a break in a game between Illinois and Purdue last February.
Triplett, who was randomly selected to participate in the promotion, received a text notification that he had five minutes to report to the promotions desk for his chance to win big. And report he did, sending that basketball flying into the hoop.
Check out his amazing shot right here, then pick up the phone and give Odds On a call at 888-827-2249 to learn about purchasing your own half court shot insurance and running or sponsoring your own winning basketball promotion this season.