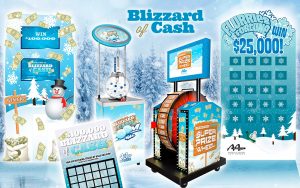 Need to drive midweek traffic at your property this winter? Put a blizzard of cash and prizes on your gaming floor with Odds On's winter casino promotions, featuring our Blizzard of Cash Game Suite!
From kiosk promotions, to our popular Zoom Ball contest, to giant wheels and more — you can give your customers the chance to take home an insured prize, up to $1,000,000, with a little help from Odds On!
Don't see what you're looking for? No problem – just check out the other winter casino promotions we have to offer, or let us customize a promotion for you… you just give us a call today at 888-827-2249, or send us an email.