Hey everyone!  One of my clients is at it yet again: using Odds On's prize coverage to increase traffic and play at their location!
This time, one of my Louisiana casino properties will be insuring Odds On's Zoom Ball promotion.  Not only that, but they'll be running the contest for two whole months, giving players an increased chance at winning the big bucks!  Check out how the promotion is going to work, as well as the grand prize that's at stake this time!
This Louisiana Casino Sure Knows How to Run a Winning Promotion… and Here's Why: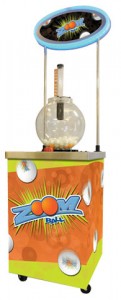 During the two-month-long promotional period, players will be given the opportunity to approach the Zoom Ball machine and get the ball rolling (or balls, rather!) in attempt to win one of several amazing prizes.  Players simply press the red button which activates the "ball blower" on Odds On Promotions' Zoom Ball machine, then watch to see how many orange-colored balls land in the machine's "Zoom Zone."  While 6/6 orange-colored balls are required in order to win the insured grand prize, this Louisiana casino knows exactly how to run one heck of a promotion… by awarding players a variety of prizes regardless of how many winning balls they manage to get!
0/6 balls will automatically land the player $5 in free slot play.
1/6 balls will score the player $25 in free slot play.
2/6 balls means $50 in free slot play for that player.
3/6 balls lands a lucky player $100 in free slot play.
4/6 balls scores a player $250 in free slot play.
5/6 balls… $500 in free slot play for that player (woo-hoo!)
And at long last, here's the answer to the question that you've undoubtedly been waiting to read about: What happens if a player manages to get 6/6 orange balls into the Zoom Ball machine's "Zoom Zone?"  Well, would you believe me if I told you that they'd be a $1,000,000 winner, paid for by Odds On?  That's right — Odds On Promotions will pay out one million dollars to any player who, during the 2-month-long promotional period, manages to collect 6 orange balls during any day the promotion is running!  Talk about one generous grand prize!  And the best part of it all is that Odds On's prize indemnification insurance relieves the Louisiana casino of the risk of pay-out!
Did you know that Odds On's Zoom Ball promotion also allows for multiple colored balls to be used?  It's true — just contact us for details, as well as a free, no-obligation quote, at 888-827-2249.  You can also email us for more information!  We'll help you make the most of your next casino promotion with one of our hottest-selling promotions this year: Zoom Ball!