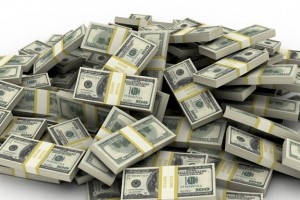 Looking for a great promotion to insure during an invited guest promotion at your casino property, which will increase play and traffic?  Evelyn Golding, Southeast Business Development Manager with Odds On Promotions, is here to tell you about an invited guest casino promotion from a property in the Southern U.S., which recently held a Lucky Envelopes contest worth some major moolah!
VIP Lucky Envelopes Promotion
On the specified promotion date, a total of 2,250 invited guests (Player's Club Members) received a chance to reach into the casino's "prize barrel" and grab one of Odds On's Lucky Envelopes, which contained a free slot play amount ranging from $5-$500.  Among all of the envelopes were five special "Looney Cash" envelopes, each of which contained a special insert.
The five lucky players who got one of the five special inserts, then got the chance to participate in the insured Lucky Envelopes promotion, complete with a custom game board!
Each of the five lucky players got to pick 2 out of 25 envelopes displayed on the game board.  If the two envelopes they chose ended up containing matching grand prize winning symbols, they would have won an instant $25,000… paid for by Odds On Promotions!
I love this particular promotion, especially since the casino opted to up the ante, giving each of the five players who participated in the insured promotion a chance to win the $25,000 grand prize.  Theoretically, if each of the five players were to have chosen the two lucky winning inserts, they each would have received the full prize value, which would have meant a grand total payout of $125,000!
Interested in insuring an invited guest casino promotion of your own?  Check out our casino promotions, then give one of our casino marketing specialists a call at 888-827-2249 for a free, no-obligation quote on a customized contest of your choice, as well as some ideas on how you can increase traffic and coin-in in the process!
You can also email us at any time.
P.S. Interested in purchasing your own customized game board to go along with your next Lucky Envelopes promotion?  Check out the stock designs we have available, or feel free to contact us with your own customized idea!