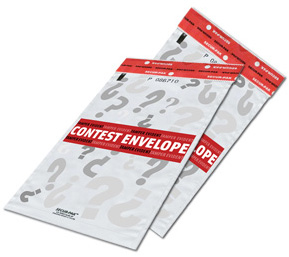 Just because its the middle of winter doesn't mean you can't run an amazing fishing event!  Check out how a  Wisconsin insurance agency recently assisted a local fishing derby by giving  participants a shot at winning the big bucks in an ice fishing derby Lucky Envelopes promotion, insured by Odds On Promotions.
Here's how the Lucky Envelopes promotion worked: 4 lucky contestants of the ice fishing derby, chosen at random, were selected to participate in the Pick 'Til You Win-style Lucky Envelopes promotion, in which each of the 4 individuals chose 5 lucky envelopes.
5 Lucky Envelopes Could Have Meant a $10,000 Payout…
The 4 contestants each started with 35 envelopes, opening one envelope at a time, unveiling one of three different prize symbols, representing three different prizes. The first prize symbol drawn five times would be the prize the lucky contestant would walk away with.  If a lucky angler managed to select the five Lucky Envelopes which contained the matching grand prize symbols, then they'd win an instant $10,000… paid for by Odds On Promotions!   Did we mention that each of the 4 participants of the promotion each had a chance to win the insured prize?  Yep, there was a total of $40K on the line!
Although unfortunately, no one managed to score the $10,000 grand prize, it was still a winning day for participants because  the event featured over $16,000 in guaranteed prizes, including cash and ATVs!  (Talk about a great example of "doing it right" when it comes to a grand prize promotion — after all, no one likes leaving empty-handed!)
Interested in insuring a Lucky Envelopes promotion of your own?  Whether you're holding a fishing tournament, a different sports event, a trade show or need to drive traffic to your store… Lucky Envelopes are the perfect promotion to insure any place, any time!  Just give Odds On Promotions a call today at 888-827-2249 for a free, no-obligation quote… or email us for more information!  We look forward to hearing from you!