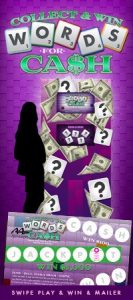 Looking for a new casino contest idea? Give your players two ways to win cash and prizes every day with Odds On's brand new Collect and Win Game, Words for Cash.
With every swipe of their club card, players pick a mystery tile on the game's touchscreen for a chance to instantly win a giant insured prize (paid for by Odds On, of course), and to 'collect' a game piece (a single letter) which they can stick onto your customized game board.
When any of your player's collects a winning combination of letters to spell WIN, CASH, or JACKPOT, they will score a cash prize, based on your custom prize matrix and budget.
Easily customizable, Words for Cash 'game boards' can feature your choice of phrases, and can be simply incorporated into your monthly direct mailer.
For more casino contest ideas – or for a free, no-obligation quote – feel free to give us a call today at 888-827-2249.