Need to drive traffic and boost your holiday sales? Want to support the local hockey team? Help a local charity raise awareness? Looking for a great way to generate foot-traffic on Black Friday and beyond? Check out a few of our favorite holiday contests and promotions, then give us a call today at 888-827-2249. We look forward to helping you sell more this season!
---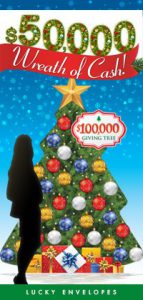 Wreath of Cash or Giving Tree
December Lucky Envelopes
Give holiday shoppers the chance to win gift cards, electronics and cash this December with Odds On's holiday-themed Giving Tree or Wreath of Cash Lucky Envelopes promotions. To play, randomly selected holiday shoppers select three numbered ornaments, each corresponding to a Lucky Envelope filled with a dollar amount, out of twenty placed on a tree or giant holiday wreath. If your lucky shopper can collect the three amounts that add up to $100, they'll win your holiday shopping spree, up to $100,000, and Odds On will write the check!
Want to make this one even better? Partner up with a collection of charities in your community and when someone wins the grand prize, split it 50/50 between your shopper and the charity of their choice.
Holiday Lucky Envelope Game Ideas

---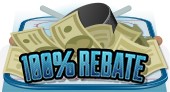 Net a 100% Rebate
Drive traffic and sales with a conditional rebate promotion tied to your favorite hockey team's performance during a particular period, match, or the entire season. Our favorite? A Super Seconds promotion where if a goal is scored at just the right moment, your shoppers will get a 100% rebate on every purchase made during your Super Second Sale.
Hockey Conditional Rebate Ideas
---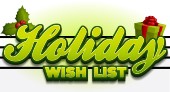 Holiday Wish List
Imagine the traffic you'll drive when you give your customers the chance to win everything on their holiday wish list, paid for by Odds On! You'll provide us with a selection of ten 'holiday' dream gifts (i.e. an Apple Watch, diamond earrings, home theater system, a new car), and we'll put them in a predetermined order. If a lucky contestant can put those items in the winning order, they win everything on your list, and Odds On Promotions will pick up the tab.
---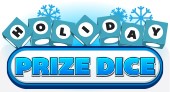 Roll Into 2017
Advertise the chance to win a giant discount, a new car, or an attention-grabbing $1,000,000 holiday shopping spree, with just a roll of the dice! Simply hand your lucky qualifiers a set of our 1″, 4″, 8″ or 16″ dice and get ready for fun. If they can roll a winning combination of your logos or letters (i.e. M-O-N-E-Y, H-O-L-I-D-A-Y, N-E-W-Y-E-A-R), they'll be rolling in dough, and Odds On will pay for the prize.