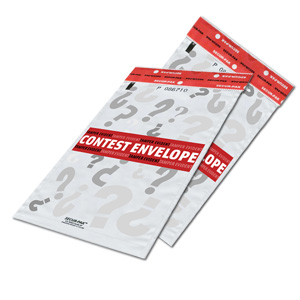 Looking to add some sizzle to an upcoming conference? A Texas-based company in the housing industry recently teamed up with a building products sponsor and was looking for some conference promotions.  Odds On was able to help them to insure a Pick 'Til You Win Lucky Envelopes contest designed to increase traffic and attendance to their local "Buyer Group" meeting.
On the promotion date, one conference attendee chosen at random via raffle had the opportunity to select from 5 of 40 of Odds On Promotions' Lucky Envelopes.  Contained within each of the 40 envelopes were inserts, each of which indicated a prize.  Eighteen of the inserts contained a trip for two prize, 17 inserts were worth a brand new Yeti Cooler and 5 were worth the insured grand prize — $25,000, paid for by Odds On!  Both the trip and cooler were client/sponsor-provided.
As you may already know, the great thing about a Pick 'Til You Win-style Lucky Envelope game is that no one goes home empty handed, which is what makes this our favorite out of all of the different envelope games we have to offer.
The contestant just kept choosing and opening envelopes until they collected 5 matching inserts, which indicated the prize they had won.
This conference promotion ended up being such a success that the companies will be doing another promotion, in the exact same way, at their National Conference this Fall.
Looking For More Conference Promotions?
If you're looking for conference promotions, please feel free to contact Odds On today at 888-827-2249 or email us for more information.  Additionally, if you're looking for more ideas for conference promotions, be sure to visit our website for some fun and unique contests.  Whether it's a conference, trade show, or otherwise… we've got you covered with our A+ rated prize insurance!