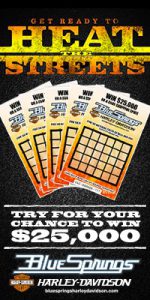 Beat the Heat Bucks
Scratch & Win Promotion
In need of some contest ideas? How about giving everyone who visits your location the chance to score big prizes with one of Odds On's standard or customizable Scratch and Win cards! A proven way to drive traffic and increase sales, customers simply scratch off surfaces to reveal symbols. When a lucky contestant unveils a winning combination of matching symbols, Odds On will be there to pay for your grand prize. Each card features a contact information form on the back to help you build your marketing database and/or run a post promotion guaranteed giveaway at your location.
---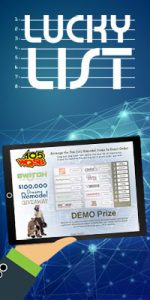 Home Makeover Money
Online Register to Win Promotion
Give your customers the chance to win a house full of cash and prizes or a major home remodel, paid for by Odds On, with an online Home Improvement game. You'll provide us with a selection of ten home improvement jobs (i.e.new windows, new flooring, new appliances, etc), and we'll put them in a winning order. After completing an online registration form, contestants "drag and drop" the items on the list into a preferred order. If a lucky contestant puts the items in the winning order, they will win your grand prize, and Odds On Promotions will pick up the tab.
---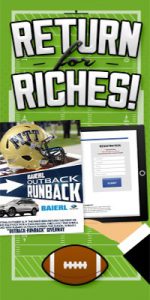 Game Day Rebates
Football Promotion
One of our most popular contest ideas. Drive sales while showing support for your favorite football team! It's easy with Odds On's Shut Out Payout and Return for Riches Conditional Rebate promotions. Just choose your team, or preferred game and hold a "Run it Back Rebate" or "Shut Out, Pay Out" sale, giving shoppers the chance to collect up to a 100% rebate if the opening or second-half kickoff is returned for a touchdown, or if the home team shuts out their opponent! If your team makes it happen, your lucky shoppers will get a big rebate, and Odds On will write a check for every purchase made during your sale.