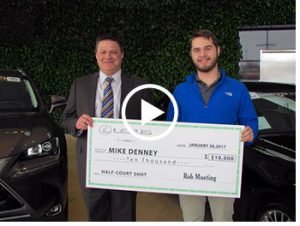 Half Court Shot Winner Nets Lexus on New Year's Eve
Odds On Promotions Writes the Check
Omaha, Neb. – Congratulations to Mike Denney of Omaha who won a lease on a 2017 Lexus IS this December, courtesy of Lexus of Omaha, and paid for by Odds On Promotions.
Denney won the big prize after he nailed an impressive half-court shot at Century Link Center, during half-time during a basketball game between Denney's alma mater, Creighton, and Villanova. Check out his amazing shot!
Are you looking to put your business at center court? There's still plenty of time to insure an exciting on-court basketball promotion, or to run a basketball bracket contest during the month of March! Looking for more ideas to make the most of your sponsorship dollars?
Email or give Odds On Promotions a call today at 888-827-2249 to learn more!