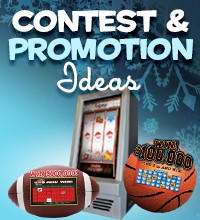 Four Cool Ideas For Driving Q1 Traffic & Sales
Give your customers the chance to win an avalanche of cash and prizes this January, February and March with a little help from Odds On Promotions. From easy and affordable Scratch & Win Cards, to big prize promotions for Super Sunday, Valentine's Day, Mardi Gras and beyond, Odds On is sure to have a traffic-driving idea for you.  And best of all, when you have a winner, Odds On will be there to write the check.
---
---
Blizzard of Bucks Scratch & Win Cards
Odds On's customizable Scratch & Win Cards are a fun and effective way to drive traffic to your location during the holiday season or reward consumers any time of year! Cards can be customized with your logo as well as a bounce-back offer. Each card is a potential winner and features a registration area on the reverse to build a marketing database or host a post-promotion guaranteed drawing, all for just pennies per card! And when a lucky customer unveils a grand-prize winning combination of symbols, Odds On will be there to write the check.
---
---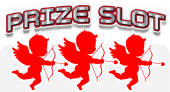 Cupid's Cash Spin
Just imagine the traffic you'll get when you give customers the chance to win a giant jackpot, paid for by Odds On Promotions, just for visiting your location! With Odds On's customizable, Valentine's Day themed Prize Slot, ideal for use in any location, you can give everyone who visits your store the chance to spin the reels and win your grand prize, or one of five self-sponsored consolation prizes – simply by pressing a button. And when the pay table says you've got a grand prize winner, Odds On will be there to write the check!
---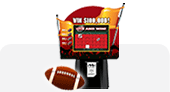 Pick 6 & Win
Give your customers the chance to score prizes worthy of an NFL, NHL or NBA superstar with Odds On's easy-to-play Football, Basketball and Hockey themed Video Scratch & Win games. Here's how it works: Players simply select six helmets, basketballs or pucks on the game's touchscreen grid. If a lucky player unveils all six prize-winning symbols, they'll take home your grand prize. Or, you'll reward them with a consolation prize based on how many winning symbols were revealed. All of Odds On's sports-themed Video Scratch & Win games are available on your choice of a convenient handheld tablet or countertop-friendly kiosk, making the ideal choice for driving game day, trade show or showroom traffic.
---
Need a fun promotion for February? How about giving someone the chance to be a Mardi Gras Millionaire? Odds On will send you a set of 40 Lucky Envelopes, each holding a strand of colored beads worth different prizes (e.g. purple beads for $25, green beads for $50, and gold beads for $1M, paid for by Odds On). Your lucky contestant will select and open envelopes until they find five matching strands of beads, winning the indicated prize.