May Promotion Ideas
Want to see big results this Spring? Odds On Promotions makes it easy to engage your customers and close more sales. Here are just a few ideas for driving traffic and sales during the month of May!
---
May Madness Zoom Ball
Drive traffic or reward consumers with one of our May-themed Zoom Ball promotions.

Odds On's Zoom Ball games are fast-paced and action-packed, and if someone lands 5 or 6 winning balls in the Zoom Zone, they'll win cash and prizes worth up to $1,000,000 - and Odds On Promotions will write the check. Award discounts, tee-shirts, logo'd merchandise, cash, and other consolation prizes based on how many balls end up in the Zoom Zone. Choose from one of our three ready to ship Zoom Ball games (cash, Mother's Day, horseracing) or let us design a custom game just for you.



---
Video Scratch & Win
Give your customers the chance to win amazing cash and prizes with Odds On Promotions' Show Me the Money or May Moolah Video Scratch & Win game where your customers will win cash and prizes based upon how many matching symbols they can find on the game's touchscreen grid. Find all 6 winning symbols, and they'll score your grand prize paid for by Odds On Promotions. Available for play on your choice of a convenient handheld tablet or attention-grabbing countertop kiosk.
---
Derby Day Dollars
Give your customers the chance to strike it rich before, during or after the Derby, Preakness, Belmont (or the Breeder's Cup in October) with Odds On's Place, Show, Win the Dough Lucky Envelopes game.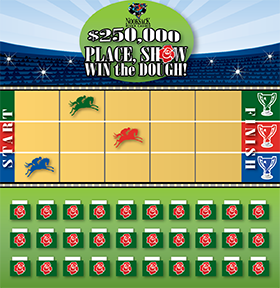 ---
Spring Bling
Gby giving your customers the chance to scratch, match, and win big dough with a customized scratch card that contains your sales event name and logo. Simply hand over the cards to everyone who makes a qualifying purchase (or to everyone who visits your location during your sale). If you customer finds a winning combination, Odds On will write the check for your grand prize, up to a million bucks.