Hey, auto dealers!  Looking for a great direct mail promotion that's bound to drive foot traffic through your doors?  Want to increase sales while gaining valuable marketing information?  If the answer is 'yes', then you'll want to pour yourself a cup of coffee and take the time to read about the Video Scratch & Win contest that this Harley-Davidson dealership in Connecticut insured to promote the new 2013 Harley-Davidson Street Glide!
Direct Mail Promotion Using Video Scratch and Win Game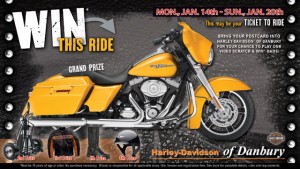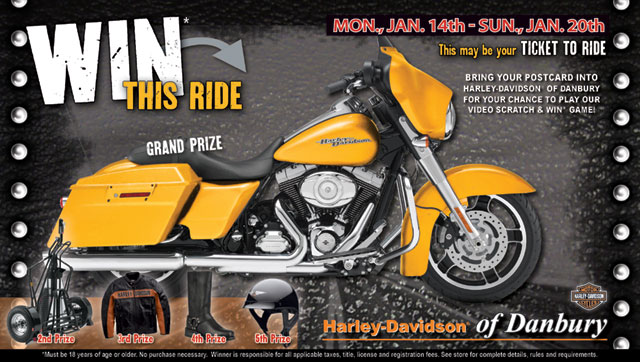 During a week-long period, customers who presented a direct mail postcard at the dealership got the chance to play Odds On's Harley-themed Video Scratch & Win promotion, "Born to Ride."
Each customer selected 6 spots on the game's touchscreen.  For every 'Harley motorcycle' symbol that appeared, they would win a prize!  1/6 Harley symbols landed them $5 off any purchase of $25 or more at their dealership; 2/6 symbols would award them a free helmet; 3/6 symbols, a pair of Hustin boots; 4/6, a classic leather jacket; 5/6, a Kendon single-rail trailer…
And now here's the best part: If a customer managed to select all 6 spots which revealed a Harley motorcycle symbol, they'd win the insured prize, a  2013 Harley-Davidson Street Glide, valued at $25,000, and paid for by Odds On!
While unfortunately, there was no grand prize winner, many prizes were given away and fun was had by all — and in the process, the Harley dealership gained additional foot traffic and sales during the promotion… all for purchasing contest insurance from Odds On Promotions!
Interested in insuring a direct mail promotion of your own?  Give one of our marketing specialists a call today at 888-827-2249 for a free, no-obligation quote… or email us for more information!  Be sure to also take a look at the live gameplay of 'Born to Ride' below!