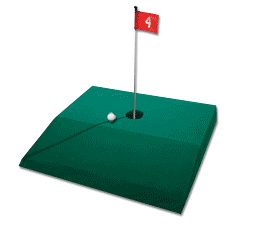 Damien Anderson, Internet Business Development Manager with Odds On Promotions shares how an aviation company in the Southwest managed to help raise funds for a basketball team's charity by insuring a grand prize golf contest...
In order to help fundraise as well as improve their name recognition, an aviation company in the Southwest insured a putting contest at the charity's 25th Annual "Jump Ball Gala" event, which featured appearances by Charles Barkley and Kevin Johnson ("KJ") of NBA fame.
Individuals who made a donation at the event had the opportunity to participate in a 15-foot putting golf contest.  All those who successfully holed the putt then had their names placed in a bowl.  Out of all those who qualified, one lucky attendee's name was drawn and they were given the opportunity to make a final 60-foot putt.  If they holed that grand prize putt, they would have been given the gift of flight — $20,000 in free private flight hours, paid for by Odds On Promotions.
Interested in insuring one of our many golf contests at your next big event?  Whether it's a trade show, charity event or otherwise, we're guaranteed to have something just for you!  Give Odds On Promotions a call at 888-827-2249 or email us for more information!
Pssst – Remember the infamous Shot at Glory hole-in-one challenge at the infamous 16th green at TPC Scottsdale earlier this year, which Odds On's sister company, Hole In One International, insured?  The aforementioned charity just so happened to be the title sponsor for that event!  Furthermore, the aviation company teamed up with Hole In One International to also insure a hole in one contest on three separate courses at Desert Mountain Golf Course in Scottsdale, Arizona!  What can we say?  Our clients just can't get enough of us!