Everyone knows how to make a paper airplane. This paper airplane toss contest gives your contestants a chance to toss a paper airplane through a template, car window, etc. Involve the entire arena by parking a car at center court and giving everyone a chance to land one in the sunroof from their seat. A successful landing will bring a huge prize from Odds On. Paper airplane tosses are great promotional ideas for events.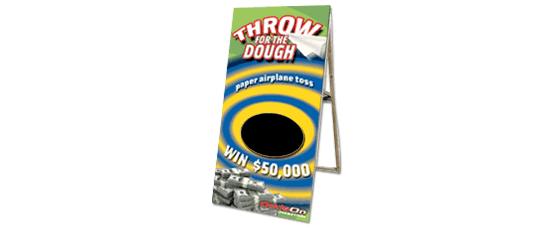 Step by Step:
(1)
Choose your target, select your grand prize package and advertise the chance to win big for throwing a paper airplane.
(2)
Randomly select your contestant(s), or give everyone the chance to throw a paper airplane through a designated target or at a specific location in order to win your grand prize.
(3)
When a contestant successfully navigates the target or lands the paper airplane in prize winning fashion, they'll score big and Odds On Promotions will pick up the tab.