Six weeks, sixty-four teams and millions of basketball fans add up to one very big marketing opportunity! With Bracket Challenge II Instead of long lines of patrons slowly picking an entire bracket on a kiosk, they simply swipe their club card to receive a play code and directions to your website or direct to your branded contest site. Then, on their own time, patrons can make their selections for a shot at winning up to $1,000,000 for correctly predicting a select number winners. And don't worry, when a lucky contestant picks them all right, we'll be there to pay the prize!
Bracket Challenge - Kiosk to Website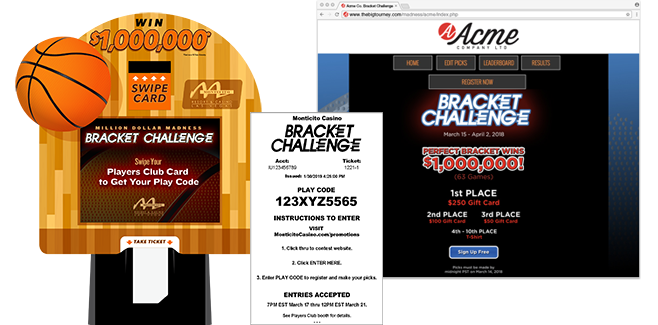 WHY DO IT:
Incentivizes New Member Sign-Ups – You need a club card to play and a custom registration page collects additional demographic information for future marketing efforts.

Drives Multiple Trips (and Coin In!) to your Property – Distribute the play codes at your location via our kiosk or yours. No code, no play. Require a points or coin in thresehold to qualify if you wish. Codes can be unique or generic and used once ever or once per person. Pay winners after each round and require visits to collect.

Drives Traffic to your Website – For six weeks customers will visit your website to access the contest site to first make their picks, and then check their standing after each round, giving you maximum exposure.

Easy to Operate – Place our basketball bracket contest kiosks near your Player's Club booth, sports bar or sports book or use your own to invite customers to play. No staff assistance is required.

Easy to Play – Players swipe their club card, recieve a play code, and go to the contest site at their leisure to make their picks.

Risk-Free – Offer a huge perfect bracket prize without the risk of a payout, all our prize packages are backed with A (Excellent) rated underwriting.
WHAT YOU GET!
Customized Mobile Friendly Contest Site – your name and logo are prominently displayed on all pages.

Optional Sweet 16 Pool – every participant (and latecomers), gets a second chance to win a self-sponsored prize, driving traffic to your website all tournament long.

"Excellent" Rated Prize Insurance – all our prize packages are backed with A (excellent) rated underwriting, ensuring that when you have a big winner, we'll be there to pay for the prize!

24 Hour Customer Service – if anything goes wrong, we'll be there to fix it.