Hole in one insurance allows you to offer spectacular hole in one prizes during your golf tournament and if someone aces the target hole, we'll pay for the prize. We offer hole in one insurance for any prize with a cash value of up to $1,000,000!

What is Hole In One Insurance:
Hole in one insurance is a form of prize indemnity insurance which allows the organizer or sponsor of a golf tournament to offer large prizes such as cars, trips, and large amounts of cash to golf tournament participants if they make a hole in one during their tournament. Organizers or sponsors purchase hole in one insurance from Odds On Promotions which is fully underwritten by Everest National Insurance Company (A+ Rated) and if a hole in one is made, the organizer or sponsor is fully reimbursed for the cost of the prize won by the golfer.
What are the Odds of Making a Hole In One?
Based upon our 25+ years of hole in one insurance experience, the odds of making a hole in one for amatuer golfers is 12,500 to 1 and for professional golfers is 2,500 to 1.
Our Hole In One Insurance Program Includes:
Free Ancillary Hole In One Prizes - In addition to our low hole-in-one insurance rates and great service, we offer any player acing a non-target par three during your event an exciting ancillary prize, with our compliments. Visa® Gift Cards, tablet computers, and Callaway® golf equipment are just a few of the ancillary hole in one prizes to choose from. We're golfers! We're not going to let a great shot go unrewarded!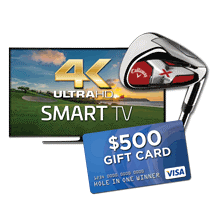 Free Hole In One Contest Signs and Tee Markers - You've got to give credit where credit is due. We've got that covered too. When you buy hole in one insurance from our sister company Hole In One International, we'll provide you with a hole in one contest sign introducing your hole in one sponsor to the whole world, a set of hole in one contest tee markers for your target hole, and up to four hole in one contest signs for our complimentary ancillary prizes.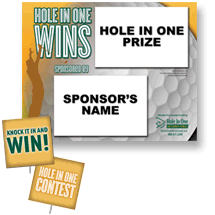 Free Golf Club For Everyone In Your Event - We appreciate your business! To entice you to purchase your hole in one insurance from Odds On Promotions, we've teamed up with TeePrize.com to give everyone in your tournament a FREE Golf Club or accessory of their choice!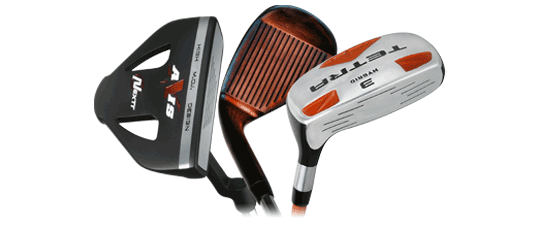 How much does Hole In One Insurance Cost?
Hole in one insurance is priced based upon three factors:
1) Number of golfers in the tournament.
2) Length of the hole in one contest hole.
3) Cash value of the hole in one prize.
Prices start at $180 and increase based upon these factors. The average cost of a hole in one insurance contract is roughly $400 which covers 100 golfers, at 165 yards, shooting for a $20,000 hole in one prize. Keep in mind: the more golfers, the higher the price, and vice versa; the shorter the hole, the higher the price, and vice versa; and the larger the prize, the higher the price, and vice versa.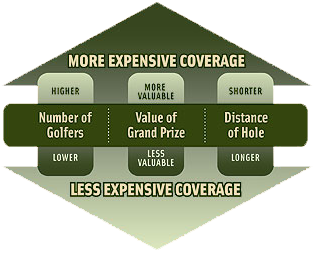 How to buy Hole In One Insurance:
(1)
Choose a prize guaranteed to knock the socks off your tournament participants. Anything goes! Hole in one insurance can cover hot air balloons, Rolls Royces, trips, boats, houses, horses or cold hard cash.
(2)
Call 888-827-2249 for a free hole-in-one insurance quote. We will need the number of players you expect, the length of your target hole, and the cash value of your prize.
(3)
We'll give you a free, no obligation hole in one insurance quote, issue the necessary paperwork, and start drafting the check. It's that easy to insure your own hole in one contest!