Want to run a basketball bracket contest? Drive daily visits for three straight weeks during the Men's College Basketball Tournament with Odds On Promotion's kiosk-based "Pick the Winners" basketball bracket contest, College Basketball Bracket Challenge. Customers get one free chance per day to pick the winners of the games played on the next tournament day. Add up to a $1,000,000 insured prize for picking a perfect college basketball playoff bracket. Award prizes following each round for the best (and worst) scores and watch your daily traffic skyrocket.

---

---

College Basketball Bracket Challenge Featured Highlights
Affordable – No set-up fees, and offer up to $1,000,000 at a fraction of the cost.

Easy to Operate – Place the basketball bracket contest kiosks near your Player's Club booth, sports bar or sports book and invite customers to play. No staff assistance is required for play.

Easy to Play – Players swipe their club card or drivers license, make their picks, and collect a receipt.

Risk-Free – Offer a huge perfect bracket prize without the risk of a payout.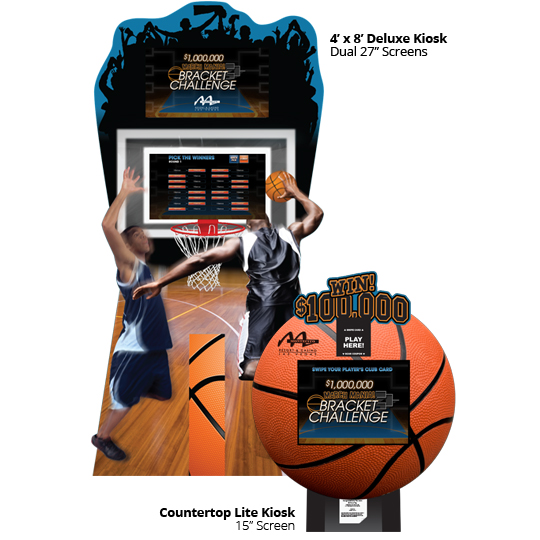 How College Basketball Bracket Challenge Works:
(1)
Players swipe their player's club card or drivers license the day prior to each tournament day to activate the basketball bracket contest kiosk.
(2)
Using the touchscreen, players select the teams they think will win that round, plus the final score of predetermined game as a tiebreaker.
(3)
A receipt is distributed containing: the player's picks for the day; their previous round's result and year-to-date standings; optional drawing ticket or marketing message is also available.