Challenge contestants to successfully select the top 8 drivers each week and win up to $100,000. Contestants can measure their success against other contestants while competing for great ancillary prizes as well. Contestants also have access to, interesting stats, polls, Buddy Tracker (Allows contestants to track the scores of friends playing the contest, along with their scores, to see how they stack up against one another), and Buddy Groups (Allows contestants to start their own private group for friends, family, co-workers, etc. Once a buddy group is started, contestants can invite other players, setup group rules, and use group messaging within the contest).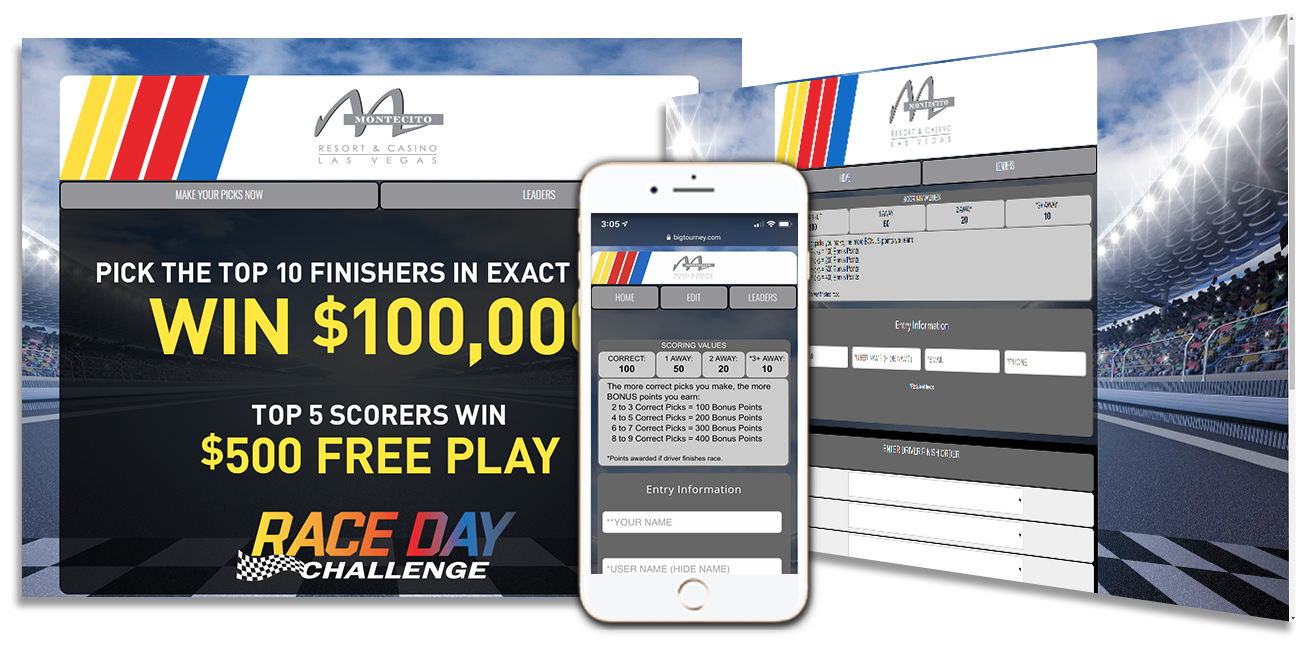 How It Works
Contestants visit your website, register to play, and then each week before the race, login and pick 8 drivers. Points are awarded depending on how well their drivers do that week (points awarded on how the drivers finished, the higher the driver finishes the more points awarded). Only the contestant's top 5 drivers generate points. Only 3 drivers can be switched out each week. Offer up to $1,000,000 for reaching a certain point total at the end of the season!
Weekly winners will be the contestants with the most points. The contest also allows contestants to play all season long. Points are calculated all season until the final race is over. Points can also be calculated for the final 10 races of the season for an additional contest level. The Race Day Challenge Contest is accessible 24/7, is updated continuously, and keeps the contestants coming back to manage their team and see current standings.
Weekly email reminders are sent out to contestants reminding them to login and make their weekly picks. Additional information such as coupons or sponsor information can be sent along with the emails. The contest allows for the posting of scores and standings to the web after each race. Contestants are automatically notified via email when scores and standings have been updated. They are then linked back to your website to check their standings. Weekly winners are posted to the site. Contestants can view the top scoring contestants from the leader board. If not listed near the top of the leader board, contestants can login to see their personal standings.
After the last race of the season, the final results are posted to the site and the site will remain accessible to the public for two weeks.
Administration
Although we manage almost all aspects of the contest, clients have the ability to access and manage certain contest sections and information. Clients can manage contestant data, emails, polls, registration data, etc. Clients can also access real-time contest traffic analysis and web ads statistics.
Contest Includes:
Setup and Customization: company logo, sponsor banners and links, rules, homepage message, tell a friend email message, registration confirmation email, contest update and reminder emails
Site Hosting: site and data for the duration of the contest
Updating Scores and Standings: on a weekly basis throughout contest
Weekly Emails: reminders and contest standings updates
Statistical Tracking: all traffic, banner views, click-thrus, etc