Odds On Promotions has plenty of golf promotion ideas to pick from. This online golf challenge covers the four major tournaments: The Masters in April, the US Open in June, the British Open in July, and the PGA Championship in August. You do not have to run the contest for all four majors.
Contestants do not have to pre-register. Contestants may register and make their picks up until the start of each major tournament.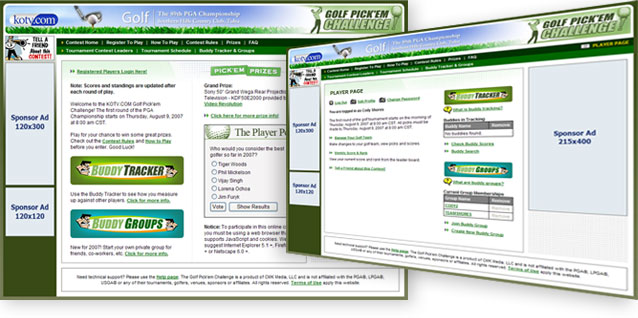 How It Works:
The objective of this online golf challenge is to accumulate as many points as possible. Contestants pick five golfers that they think will finish with the best score. They also pick a tournament winner and the lowest number of shots for any round. The sole winner will have accumulated the most points throughout the duration of the contest. If there is a tie, the lowest total number of shots for any round pick is used as the tiebreaker.
Administration
You are able to see certain stats: total users signed up, total users that have made picks, most popular golfer, etc. All user information can be exported to an Excel spreadsheet at any time.
Contest Includes:
Setup and Customization: company logo, sponsor banners and links, rules, homepage message, tell a friend email message, registration confirmation email, contest update and reminder emails
Site Hosting: site and data for the duration of the contest
Updating Scores and Standings: on a weekly basis throughout contest
Weekly Emails: reminders and contest standings updates
Statistical Tracking: all traffic, banner views, click-thrus, etc