Eighteen weeks and millions of football fans add up to one very big marketing opportunity! Take advantage of the hoopla surrounding the NFL Season this year by offering your customers a shot at winning up to $100,000 for correctly predicting a select number of winners with a custom online Pro (or College) Football Pick 'Em promotion from Odds On. And don't worry, when a lucky contestant picks them all right, we'll be there to pay the prize!
Online Football Pick 'Em - Stock Design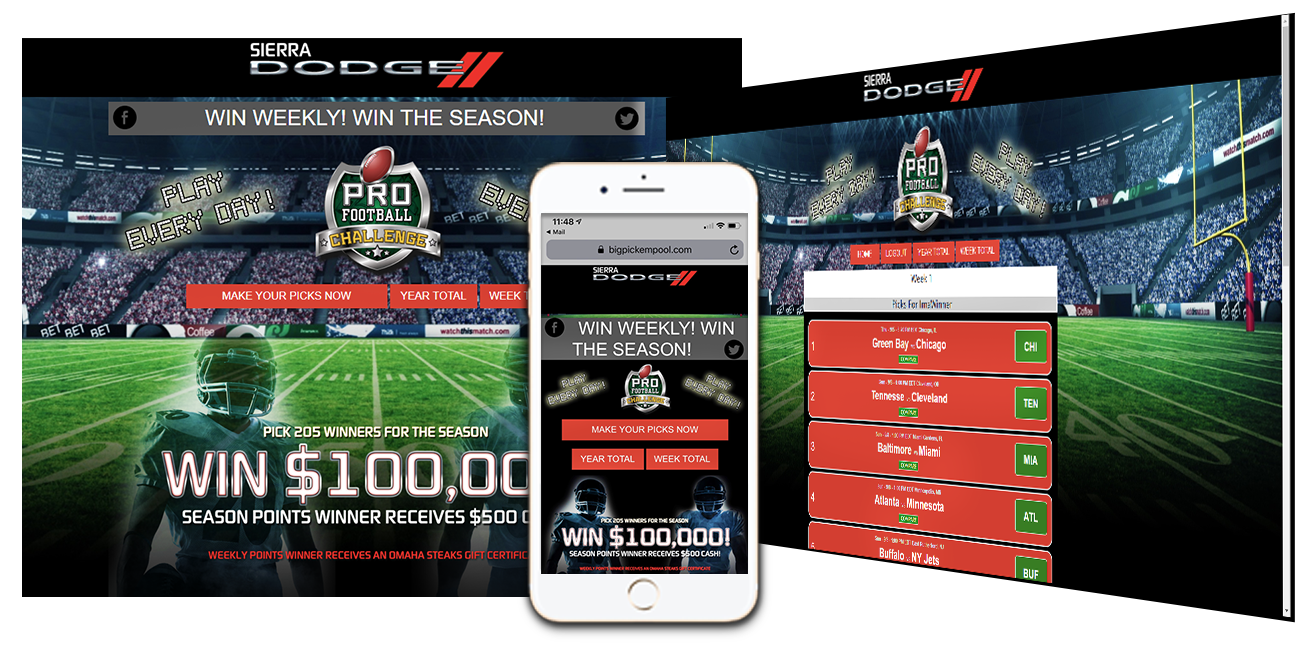 WHAT YOU GET!
Customer Contest Site – Your name and logo are prominently displayed on all pages.

"Excellent" Rated Prize Insurance – All our prize packages are backed with A+ (excellent) rated underwriting, ensuring that when you have a big winner, we'll be there to pay for the prize!

24-Hour Customer Service – If anything goes wrong, we'll be there to fix it.
WHY DO IT!
Great Database Builder – A custom registration page, collects demographic and customer information for future marketing efforts.

Drives Heavy Repeat Website Traffic – For eighteen weeks customers visit your website to make their picks and check their standing giving you maximum exposure.

Drives Brick and Mortar Traffic – Use optional play codes as a key to entry. No code, no play. Distribute play codes at your location, on your Facebook page, or during forced listening/watching segments. Codes can be unique or generic and used once ever, once per week, or once per person.