The Pro Football Pick 'Em contest challenges players every week to successfully select the winners of each professional football game and win up to $1,000,000 at the end of the season! Contestants also have access to team schedules, team standings, interesting stats, viewer polls, Buddy Tracker (Allows contestants to track the scores of friends playing the online contest game, along with their scores, to see how they stack up against one another), and Buddy Groups (Allows contestants to start their own private group for friends, family, co-workers, etc.
The Pro Football Pick 'Em contest is designed to keep scores for each week of play as well as the full season. The structure of the prize giveaway for this online contest game is extremely flexible.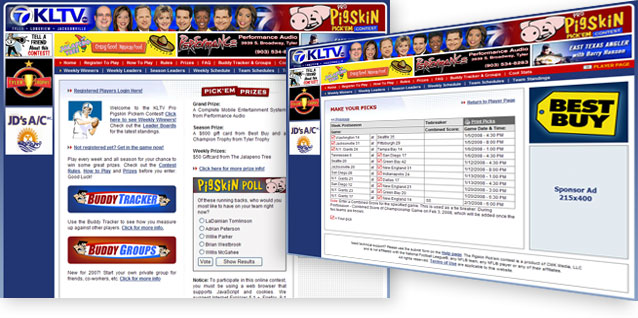 Administration
Pro Football Pick 'Em contest administrators have the ability to edit polls, manage verbiage on the online contest game homepage, lookup contestant information, and view current registration, traffic and ad tile stats. All user information can be exported to an Excel spreadsheet at any time.
Contest Includes:
Setup and Customization: company logo, sponsor ad tiles and links, rules, homepage message, tell a friend email message, registration confirmation email, contest update and reminder emails
Hosting: site and data for the duration of the contest
Updating Scores and Standings: on a weekly basis throughout contest
Weekly Emails: reminders and contest standings updates
Statistical Tracking: all traffic, ad tile views, click-thrus, etc