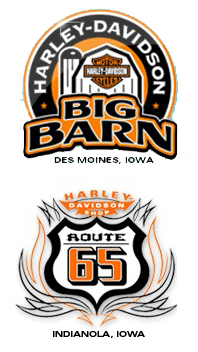 Are you a dealership looking to sell off your inventory in a fun and unique way?  Well, Big Barn Harley-Davidson in Des Moines, Iowa and Route 65 Harley-Davidson in Indianola, Iowa are doing exactly that… by running a sports conditional rebate in the form of a Super Bowl Shut-out promotion this football season!
Between the dates of December 27th and February 4th, all customers of both Harley-Davidson dealerships have a chance to potentially receive a 100% rebate on the purchase of their new or used Harley — that is, if either team shuts out the other during the Super Bowl on February 5th!
That's right: both dealerships are willing to give their customers a chance to ride home in style absolutely free of charge!  If a shut-out occurs, Odds On will cut a check to both dealerships and everyone goes home happy after the game that day!  That's the benefit of purchasing prize insurance through Odds On Promotions and insuring a sports conditional rebate!
Interested in more information or wanting to obtain a quote yourself?  It's free and no-obligation!  Give us a call today at 888-827-2249… or email us if you'd rather!  Either way, one of our experienced sales representatives will be more than willing to assist in getting you the pricing and information you need in order to insure this type of event.