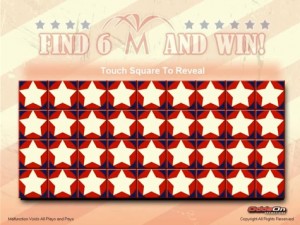 If you're a casino property, then chances are you're always on the look-out for hot seat promotions that drive results, are unique to your property and are affordable enough to run on a regular basis.  Which is why I think you're going to really like this: a custom handheld Video & Scratch and Win hot seat promotion!
Here's the scoop.  During the month of July at this casino property, players were selected to play a custom Fourth of July-themed  Video Scratch & Win tablet game.  Each randomly selected player selected six spots on the handheld tablet's touchscreen – if one lucky player happened to reveal 6/6 winning grand prize symbols (which in this case, happen to be 'fireworks' symbols coupled with the property's logo) then they would win cash and free play… compliments of the casino!  Smaller cash prizes and free play were awarded for those who manage to select fewer winning symbols.
According to Brent Kelly, Western Business Development Manager with Odds On Promotions, "I personally love using the handheld tablet as a hot seat promotion.  Here's why: they are extremely easy use, they're cost-efficient, you're bringing the promotion to the player at their gaming position, they are fun to play… and, best of all, they are completely customizable!  If Odds On doesn't have a stock game you're interested in, we can create a completely custom game for your property – including a customized 'faceplate' to showcase your game."
Feel free to watch the game demo below, then give Odds On Promotions a call today at 888-827-2249 for a free, no-obligation quote or more information and pricing on our Hot Seat Tablet, be sure to email us!