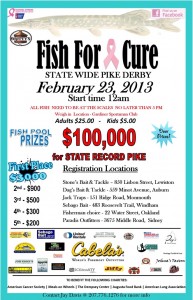 Looking to "lure" more attendees to your next fishing tournament and "reel in" fundraising dollars in the process?  This Maine nonprofit organization did exactly exactly that by insuring a giant prize fishing promotion during their "Fish for A Cure" event!
Big Fish Fundraiser
On the specified promotion date, anglers at this fishing tournament helped raise funds for cancer research with a state record weight contest.  1,000 anglers were given the opportunity to catch a "grand prize" Northern Pike in any/all bodies of water throughout the state.  All anglers who caught Northern Pike would weigh in their catches at the scales at the end of the tournament.  If one of the Northern Pike happened to beat the current state record weight of 31.2 pounds, they'd win $100,000, paid for by Odds On Promotions!
While unfortunately, no one ended up managing to beat the state record, money was still fundraised to help fund cancer research and much fun was had by all of the anglers that day.
Tourney TIP: Want to make your fishing derby a "reel" win/win?  Incorporate a giant prize promotion into your next fundraising fishing tournament, and have the  insured prize split between winning angler and the charity of your choice, 50/50! 
Of course record weight promotions don't only have to be insured by state — Odds On can also insure a world record weight promotion of your choice!  Just give us the species you'd like to cover, and we'll put together a quote on the promotion — it's free and no-obligation!
Looking for some other great fishing promotion ideas?   Check out our Top 5 Fishing Promotions PDF!  See what happens to catch your eye and then give Odds On a call at 888-827-2249.  You can also email us with any questions.