December Promotion Ideas
Capture more customers and close more sales this December with an insured-prize promotion from Odds On Promotions! Here are just a few ideas to help you grab the attention of busy holiday shoppers and close more sales by giving your customers the chance to win life-changing prizes, paid for by Odds On Promotions.
---
Pick a Present
Kick your holiday sales up a notch with Odds On's Pick a Present Promotion, a handy tablet-based Video Scratch & Win game that gives lucky qualifiers the chance to win up to $100,000 in any location.
Players simply select six lucky squares on the tablet's touchscreen, and if they find six winning symbols, they'll score your grand prize, paid for by Odds On Promotions. Award guaranteed prizes based upon your budget! Learn more about Tablet Video Scratch & Win Games.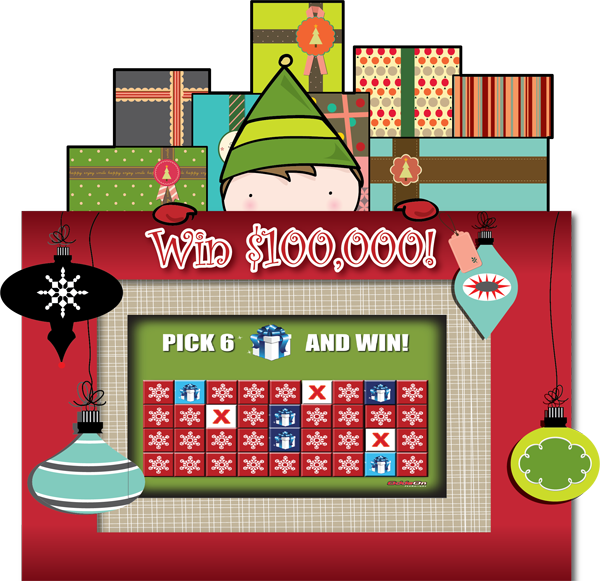 ---
Zoom Ball Promotions
Drive traffic or reward consumers with one of our winter/holiday-themed Zoom Ball promotions! Odds On's Zoom Ball games are fast-paced and action-packed, and if someone lands 5 or 6 winning balls in the Zoom Zone, they'll win cash and prizes worth up to $1,000,000 - and Odds On Promotions will write the check. Award discounts, tee-shirts, logo'd merchandise, cash, and other prizes based on how many balls end up in the Zoom Zone. Choose from one of our ready to ship holiday Zoom Ball games, or let us design a custom game just for you. Click here to view all available Zoom Ball games.
---
Lucky Ornament Pick
Here's a fun and easy holiday promotion that can be customized for any business, holiday celebration or location! We'll send you 20 Lucky Envelopes, each of which contains a prize-winning symbol. You'll hang 20 numbered ornaments on a tree, or place the envelopes inside 20 wrapped boxes or holiday socks and display them at your location. If a lucky contestant can "unwrap" two matching grand prize symbols, Odds On will play Santa and pay for your grand prize, up to a million bucks.
Click here to learn more about Lucky Envelope Games.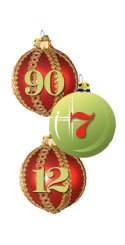 ---
Holiday Spin & Win
Put a whole new spin on your promotions this December with Odds On's Holiday Spin & Win customizable Super Prize Wheel! Insurable up to $1,000,000, simply qualify your contestants and give them the chance to spin the wheel and score a prize! Best of all, when a lucky player racks up a winning combination on the Wheel, Odds On will be there to write the check. The Super Prize Wheel offers customizable prize panels, a crowd-pleasing 40" LCD display, Tivoli LED lights, and a tidy 3' W x 4' D x 9' H footprint.

Make this one even more entertaining by having Santa emcee and having "elves" award gift cards to each contestant ensuring everyone's holiday wishes come true!
Click here to learn more about Super Prize Wheel.