Leap Year Promotion Ideas
Need an exciting and fun Leap Year promotion idea that will help drive traffic to your business? Odds On Promotions makes it easy with insured prize contests and promotions that will engage and delight your customers. Here are just a few ideas for driving revenue and giving away big money during your Leap Year celebration event.
---
Leap N' Loot Zoom Ball
Give visitors the chance to win up to $1,000,000 in cash and prizes this Leap Year with Odds On's Leap N' Loot Zoom Ball machine. Participants just press the giant-red button activating the machine's ball blower and start rooting for a winning combination of balls to fill the machine's "Zoom Zone". If a lucky contestant lands all six winning balls in the "Zone", they'll win your giant-insured prize, paid for by Odds On.

---
Leap to the Top electronic-Game Board
Give your players the chance to play a rewarding big-prize game show right on your casino floor with Odds On's e-Game Board promotion, Leap to the Top. Qualify players based on points earned, hand-paid jackpots, hot seat drawings, or whatever method you prefer. If your contestant advances to the top of the board, they will take home $1,000,000, paid for by Odds On Promotions.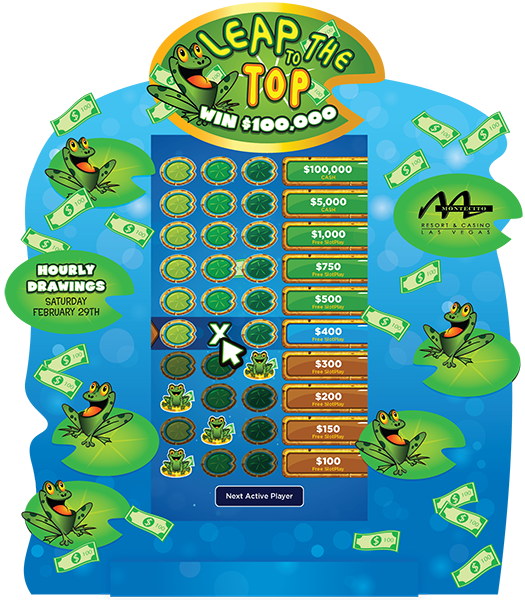 ---
Leapin' Loot Customizable Scratch Cards
Ensure your big sale is a complete success by giving your customers the chance to scratch, match, and win big dough with a customizable Leapin' Loot scratch card. Simply hand over the cards to everyone who makes a qualifying purchase (or to everyone who visits your location during your sale). If your customer finds a winning combination, Odds On will write the check for your grand prize, up to a million bucks.
---
Leap Year Game Boards
Reward your customers this Leap Year with the chance to win amazing cash and prizes with a game board promotion. Qualifying customers pick and open Lucky Envelopes for the chance to win. When your contestant selects the right combination of envelopes, they'll win your giant-insured prize and Odds On will be there to pick up the tab!
---
Leap to the Top Dice - Rollin' Up Riches
Attract more customers and drive additional revenue with Odds On's progressive dice roll game. Contestants must "roll" various combinations to move up a prize board, collecting bigger prizes, until they are eliminated. When they reach the top and roll snake eyes, they'll win your million-dollar insured-grand prize, paid for by Odds On.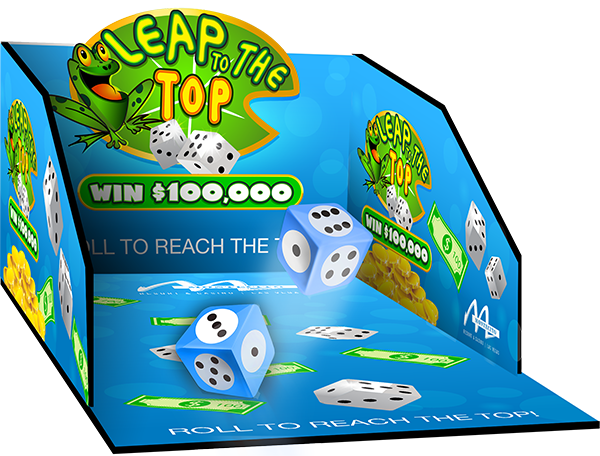 ---
Leapin' Loot Video Scratch & Win
Stand out from the crowd this Leap Year by giving customers the chance to win up to $100K, paid for by Odds On Promotions, with a Video Scratch & Win promotion! Customers simply select six spots on the game's touchscreen grid, winning prizes based upon how many symbols they reveal. If a lucky customer unveils six grand prize winning symbols, they'll take home your insured prize up to $100,000, compliments of your business, and paid for by Odds On! Best of all, you can reward participants for revealing fewer winning symbols with gift cards, merchandise discounts, bounce-back coupons and MORE, based on your own customizable prize matrix.