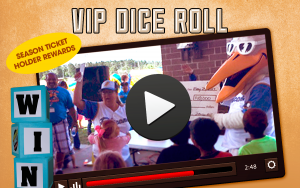 Reward students or celebrate alumni and and season ticket holders with a VIP experience and the chance to win big with a giant prize VIP dice roll.
• Select a few contestants prior to each game and treat them to a VIP experience.
• Invite them to center court (or center ice) and give them a chance to roll a set of customized 16″ dice featuring your (or a participating sponsor's) logo.
• If a lucky fan can roll a winning combination, they'll take home your giant grand prize, and Odds On Promotions will pick up the tab.
• Reward all contestants with smaller, self-sponsored consolation prizes (team apparel, etc).
Learn more about our VIP Dice Roll promotion and receive a free, no-obligation quote by giving Sports Promotion Specialist, Linda Thomson, a call today at 800-771-0250… or send us an email!
We look forward to hearing from you.