Grand Opening Promotions
Planning a grand opening? Launching a new location? Opening a new brand new branch? Need to drive traffic to a new website or attract a crowd to your storefront or grand "re-opening"?

Odds On Promotions has dozens of creative grand opening promotions, paired with larger than life prizes – that are designed specifically to help you attract attention, build a buzz and most importantly, drive traffic to your new business.
Check out some of our most effective grand-opening promotion ideas below, or give us a call to craft a promotion specifically for your organization.

---
Customized Scratch Cards
Odds On's customizable Scratch & Win Cards are an inexpensive, fun, and effective way to drive traffic to your new location. Cards can be customized with your logo as well as a bounce-back offer. Each card is a potential winner and features a registration area on the reverse to host a guaranteed prize drawing, all for just pennies per card! And when a lucky customer unveils a grand-prize winning combination of symbols, Odds On will be there to write the check.
---
Zoom Ball
Zoom Ball gets customers lining up at your location's Grand Opening event for the chance to win up to $1,000,000 in cash and prizes with just a quick press of a button. And, if a lucky participant lands a winning combination of five or six balls inside the Zoom Zone, Odds On will write the winner a giant check! Odds On's Deluxe Zoom Ball machines come complete with a customizable backlit sign and cabinet wrap which can be used to showcase your business or sponsor.
---
Cascading Dice Machine
Odds On Promotions' new, easy to run, 1" dice roll machine is perfect for drawing attention to your business. Just place this machine on a table top or counter and advertise the chance to win $100k just for stopping by. Customers can blow on the dice for good luck before placing them into the hopper, then pressing the button to release a cascade of excitement along with a chance to win a life-changing prize, paid for by Odds On.

---

Dice Roll
Give visitors a chance to roll a set of customized 16" dice featuring your logo. If the lucky customer can roll a winning combination, they'll win your giant grand prize, and Odds On Promotions will pick up the tab. Or they will win a small self-sponsored consolation prize. This promotion can easily be customized to suit a variety of budgets.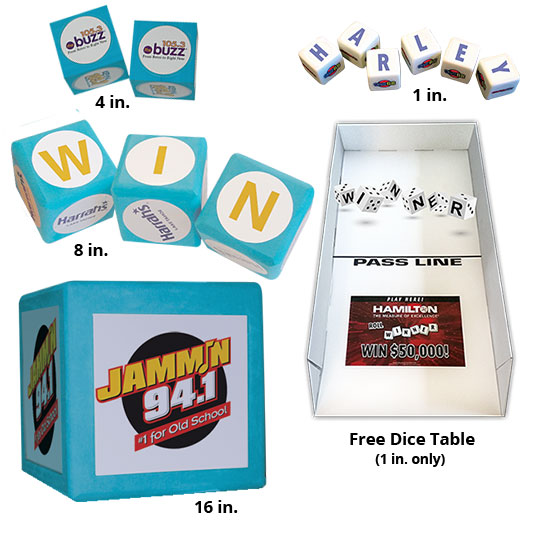 ---
Video Scratch & Win
Want to get your marketing off to a great start? Collect the email address of everyone who visits your new location by giving them the chance to win amazing prizes with Odds On Promotions' exciting themed Video Scratch & Win Games. Customers enter their email address then get the chance to win prizes based on how many symbols they can unveil on a game's touchscreen grid. If they find all six, they'll take home your grand prize – up to $100K, paid for by Odds On. Plus, the game can be programmed to award up to six consolation prizes. Available for play on your choice of a convenient handheld tablet or attention-grabbing countertop kiosk.

---
Prize Slot
Imagine the traffic you'll get when you give everyone who stops by your store the chance to spin the reels and win a giant prize! With Odds On's customizable Prize Slot, you can give everyone the chance to score a jumbo jackpot, paid for by Odds On, or one of five self-sponsored consolation prizes, simply for pressing a button. And, when the pay table says you've got a winner, Odds On will be there to write the check.

---
Prize Vault
Give visitors to your new location a chance to enter a code and score incredible prizes with Odds On's Prize Vault promotion.

• Select an attention-grabbing prize which you'll promote in your advertising.

• Using a digital keypad on the countertop kiosk, customers select a set of "lucky" digits.

• If a customer enters a winning combination, he or she will take home the grand prize and Odds On will pick up the tab.

• Offer discount coupons, tee-shirts, and other consolation prizes, or give everyone a bounce back offer to use after the Grand Opening event ends.

Prize Vault
Measures 13.5" x 10" x 10"

Prize Vault

Prize Vault Tablet
11" Screen
Super Prize Vault
Measures 4' x 8', customized with your logo and available with LED front sign.


Deluxe Prize Vault
Available in 2' x 2', 3' x 3', and 4' x 4' sizes
and customized with your logo.

---
Trunkful of Treasure
Here's a high-impact promotion that's perfect for auto dealers but can be easily customized to suit any location! Odds On will ship you 20 Money Bags and 20 Lucky Envelopes each containing a pre-determined dollar amount. Simply place each envelope inside a money bag, place the bags on display and advertise the chance to win big for visiting your location. On the final day of your event, select a lucky contestant and let them select three bags from your display. If your lucky contestant can find the three bags that add up to $100, Odds On will pay for the prize.