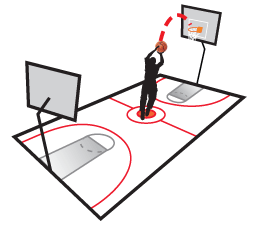 Want to add some serious sizzle to your Midnight Madness?  In the words of Linda Thomson, Sports Promotions Specialist with Odds On Promotions,
All it takes is one basketball contest… catered towards your own student body!
On the specified promotion date at this East Coast university, one lucky student selected via t-shirt toss was given the opportunity to make a basket from the half court line.  If the lucky student was able to make the half court shot, they would have received a year's worth of FREE tuition, valued at over $45,000… and paid for by Odds On Promotions, of course!
Feel free to check out the promotional video that the students put together for the basketball promotion below, then give Odds On Promotions a call today at 888-827-2249 or email us for a free, no-obligation quote on a basketball contest of your own!
Looking for a promotion for a different sport?  No problem!  Odds On has a variety of unique sports promotions to choose from!  Take a look for yourself!